Sanitization Services in Philadelphia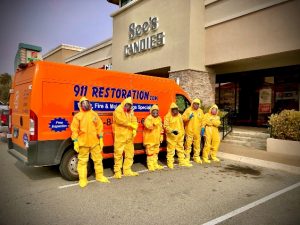 Coronavirus has been a subject on the news for months now. During this time, we have all learned a lot about COVID-19 and the risks it poses for our community here in Philadelphia. You can do your part during this outbreak by making sure your residential or commercial property stays clean and sanitized. Getting professional help from 911 Restoration of Philadelphia can give you back your peace of mind during this challenging time. 
Sanitization and disinfection techs at 911 Restoration locations can arrive at your property in under an hour. Once we arrive, we can go over your specific needs for handling sanitization services during the coronavirus outbreak.
Getting help quickly is very important as it serves as a precautionary act in Philadelphia. Your customers and employees may all feel more comfortable if they know that your office or retail space is getting cleaned professionally by experts trained in current protocols used by the Centers for Disease Control and Prevention (CDC).
Get help handling office deep cleaning and sanitization services in Philadelphia. Allow us to clean all surfaces in your property or even entire areas of your home or business, so you can focus on staying healthy.
Get Professional Help with Sanitization and Disinfection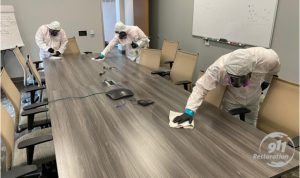 According to an article published by the NPR, experts believe at least ¼ to ½ of the world's population will be infected with coronavirus, with some estimates arguing that 81% of people in the U.S. could be infected. In order to limit the spread of the virus as much as possible, it's important that we all:
Self-isolate as much as possible

Maintain social distancing when out and about

Keep properties clean and disinfected
911 Restoration can provide you with the professional assistance you deserve as the COVID-19 pandemic continues. You can reach out to us any time of the day or night to get the assistance you need. We can offer you specialized services for office deep cleanings. We also disinfect and sanitize retail spaces and other commercial properties.
We understand that consumers are being cautious right now. You can demonstrate your concern for your clientele by setting up sanitization services in Philadelphia right now. Get assistance from local professionals who will put you first and who have the equipment and supplies to thoroughly clean your property. Secure the help you need by contacting 911 Restoration of Philadelphia today.