Mold Remediation Philadelphia
If in the last year you have experienced any of the following, then you may require the services of the mold decontamination Philadelphia team at 911 Restoration Philadelphia.
Mold removal may be needed in as little as twenty-four hours after a water damage incident.
A busted pipe
Roof leak
Ceiling discoloration
Flood
Pipe leaking
Washing machine, or any water connected appliance leak.
The tools we have at our disposal are: air scrubbers, HEPA filters, and blowers. We filter the air of any stray spores, and then remove the mold. After all the water is dried out, and all infested items are disposed of we begin reconstruction.
If you start to find the signs of water damage or a mold infestation, then call us at 911 Restoration because we will be able to guide you to better days. Ones where you can breathe fresh air.
Certified Mold Decontamination and Protection
Eliminating mold from a home is only effective if the job is done properly with no short cuts taken. Therefore, in order to demonstrate our capabilities to get you on the fresh start we have become IICRC certified.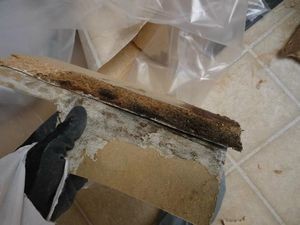 This certificate has trained us to handle the toughest of home restoration efforts in the most effective manners. Our restoration work is a sophisticated blend of techniques using advances technologies.
For example, as mold requires moisture to thrive, we use infrared cameras to track it through walls.
Once we find the existing water damage that led to mold removal we extract that moisture.
Removing the water and mold uses the same equipment, which means that you only have to call one team when you contact us.
We replace all building material with antibacterial ones.
This means that the naturally occurring mold spores are never going to plant themselves and form a new colony. Call 911 Restoration Philadelphia team when you need the expert care of one our technicians.
What to do When Finding Mold in your Home

If any of these resonate with you, then please call us as soon as possible. You will receive face to face care within 45-minutes and a free visual inspection. Our technicians know where to look for the truest extent of damage.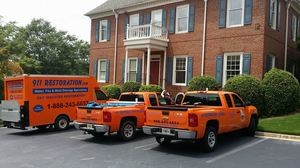 This is a common question homeowners have on their mind. So if you discover these signs then you may be wondering what may be the problem.
Discoloration on ceiling, beneath cabinets, washing machine, dishwashers, sinks, and attics.
A dirty and almost fuzzy texture.
Pungent odors
And if you experience flue like symptoms when inside your house.
Never try to remediate the mold problem yourself if it comes with broken building material, and if it spans over a 2 foot by 2 foot area. It can be highly dangerous to you and your loved ones.
Call our mold removal Philadelphia team with 911 Restoration Philadelphia and our mold removal specialists will show up as fast as possible to bring you the fresh start you need today!