Mold Removal
If in the last year you have experienced a leak or flood in your property, then you may require the services of the mold remediation specialist at 911 Restoration of Philadelphia.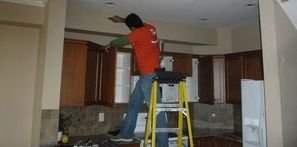 Mold can flourish inside of a home or business in as little as 24 hours after being exposed to moisture, which may come in the form of water damage. By reaching out the Philadelphia office immediately after discovering an infestation, they can provide you with the care that you need.
911 Restoration of Philadelphia use air scrubbers, HEPA filters, and blowers to completely decontaminate the affected area. Technicians filter the air of any stray spores and then remove the mold.
Once all the water is dried out, and the infested items are disposed of, the mold remediation specialist in Philadelphia can begin reconstruction work. If this requires removing portions of drywall or replacing floorboards and carpet, then you can depend on us to do so.
So, if you find signs of water damage or a mold infestation in your commercial or residential property, call 911 Restoration of Philadelphia. The staff members will give you the peace of mind you deserve. Call us at (215) 268-7407 and see how we can help you.
Certified Mold Decontamination Services
Eliminating mold from a home or business is only valid if the job is done correctly with no shortcuts taken. Therefore, to demonstrate their capabilities, the mold removal technicians are always as thorough as possible.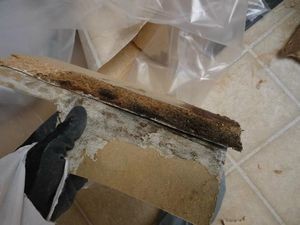 The mold removal work is a sophisticated blend of water damage restoration techniques and fungi decontamination that ensure the property does not experience a reoccurring infestation.
 IICRC certified mold removal services in Philadelphia, technicians will also take professional mold samples
Mold requires moisture to thrive, so the water damage restoration unit uses infrared cameras to track water damage through walls and other parts of the property. This ensures that all moisture is discovered and a complete mold inspection can be completed.
Once the mold removal team finds the existing water damage that led to mold removal, they can extract that moisture and clean up all traces of mold. Removing the water damage and mold requires the same equipment, which means that you can rely on the water damage restoration Philadelphia team to complete the entire job.
The water damage restoration technicians will replace all building material with antibacterial components. By using these types of materials, the naturally occurring mold spores will have a harder time forming a new colony in the future. Call the mold removal team when you need the expert care of technicians who can provide comprehensive services that include water damage restoration. Call us at (215) 268-7407 and learn how we can help.
What To Do When You Discover A Mold Infestation
If you experience water damage or mold growth in your residential or commercial property, then you should reach out to the water damage restoration team as soon as possible.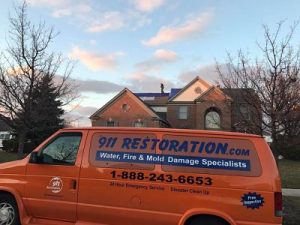 The mold removal technicians will immediately provide a free visual inspection for property owners. They know where to look for the full extent of damage and guarantee that no trace of mold will go overlooked.
Receiving fast service after a mold infestation is discovered is not only essential to the vitality of your property, but it is necessary for preventing health issues. Breathing in mold spores can cause allergy symptoms and respiratory problems, and mold removal is the only way to stave off these complications.
Call 911 Restoration locations at (215) 268-7407 and please allow us to offer you a free visual inspection.
To stay safe, you should never try to remediate a mold problem on your own. If the mold infestation is growing inside of building material and spans over a 2 foot by 2-foot area, you should call experts to come to remediate the issue.
So, call 911 water damage experts when you need both mold removal, and water damage restoration services and technicians will bring you the fresh start you need today!
Serving the communities of Abington, Ambler, Ardmore, Aston, Montgomeryville, Upper Darby and surrounding areas.