Water Damage in Philadelphia
911 Restoration of Philadelphia
The water damage Philadelphia team at 911 Restoration believes in providing homeowners all over town with a fresh start and high quality customer service. Call if you experience any of these accidents:
Water Damage
Sewage Backup
Fire
General Disasters
Mold Removal
Service area map
You need an elite team of professionals that know exactly what they are doing when a home accident occurs. Thus, contact us. Our licensed, bonded, and insured team to provide you with a fresh start, that begins with a free damage estimate. There will be no hidden surprises when you work with us, as we value professionalism and transparency for all things relating to home restoration.
We know accidents never take a day off, and that you have a busy life to lead, so we are available 24/76/365. You get an accessible crew that works with your schedule to get things to state that is better than it was before.
That's not all because we also offer a 45-minute response time and same-day service for all emergencies! That means whether it is pipe bursts or a tree that blew into your yard, things will get better, fast. You just need to pick up the phone and call us for the relief you are looking for!
Client Testimonial
Sherry M.
"I would give them 6 stars if I could. I had to deal with a flood in my business, an absolute nightmare for every business owner. 911 Restoration came right away, and they are so professional and efficient. Even after everything was done they followed up and made sure everything was back to normal. A+ customer service. Thank you!"
Water Damage Restoration
Water damage comes in three forms that ranges from a category 1 to 3. Not every restoration company is equipped to do all this, but trust us when we say that we are capable of delivering you utter freshness. From the initial home inspection to the last water molecule, we support you through it from start to finish.
The technicians we employ are all IICRC certified by the Institute of Inspection, Restoration, and Cleaning. They ensure you that the job will be done right, and that our crew will follow the proper protocols needed to instill peace of mind via a reliable restoration solution.
For example, in the event of a flood it is possible that the water can make it into your subfloor and basement. Once there it can begin festering a mold infestation. Through our use of moisture meters and infrared cameras we peer into the wall and find any hidden water.
Once located, we start water extraction. Sometimes it involves removing sheetrock, and in extreme cases collapsing walls. Fret not because our skills allow us to perform reconstruction when needed.  Everything is going to be made better than it was before. So sit back and wait.
Call 911 Restoration for utter peace of mind.
Sanitization Services & Disinfection Solutions
The coronavirus represents a serious challenge for our community here in Philadelphia. It will take all of us, working together, to handle this pandemic. While the coronavirus spreads quickly and can make people very ill, you can do your part to slow it down. Practice social distancing techniques and stay isolated as much as possible. You can also protect the community as you focus on sanitization services for your property.
911 Restoration of Philadelphia provides specialized disinfection solutions to property owners in our area. We can reach your commercial or residential property quickly to handle cleanup and sanitization services. Our sanitization and disinfection techs follow the suggestions issued by the CDC and EPA. You can count on us to disinfect your property if your business shut down due to the virus or if you are still operational as an essential service. Contact us now to find out how we can help you.
Mold Removal
The reason water damage will give rise to a mold infestation is that the naturally occurring mold spores in the air activate when exposed to moisture and humidity. They then root themselves into porous and organic material, which is then metabolized as the spores grow out.
For this reason, we should be called the minute you experience unwelcomed water for a proper dry-out. Sometimes, a homeowner notices that the water that has leaked was not too bad, and they decide to not call any one to fix it. And as a result, months down the line they experience a mold infestation.
With it cause discoloration, crumbling sheetrock, and pungent nauseating odors that can hamper your quality of life. Thus, we should be called for immediate and effective restoration. We will remove mold and provide you with a breath of fresh air.
For this service, or any of the above, give us a call.
Sewage Backup
The sewage backup Philadelphia team at 911 Restoration is capable of the most extreme cases of water damage. As raw sewage is classified as "black water" (category 3), then it requires the cautious care of a team that holds qualifications like we do.
Water extraction in this case is almost the same as any other water damage incident. It just is extra careful, as the waste needs to be disposed of in a safe manner. After all stagnating and pooling moisture is vacuumed out, we then begin microbial treatment. Microbial remediation allows us to remove odious bacteria, that if otherwise left untreated can cause problems months down the road.
The water damage Philadelphia team has your back in all manners of restoration. Call us for the fresh fix you are in need of.
Fire Damage Repair and Smoke Stain Removal
If you experienced a home fire, then you must be surprisingly aware of how much water they used to combat the blaze. This is why the water damage Philadelphia crew also offers fire damage restoration. Seldom does the majority of the damage arise from the flame, and instead it comes from the soot, oil, ash, and smoke it gives off.
The bits of remains that did not burn are acidic and oily, which will eat away at whatever it rests upon. The ash scatters about and is lifted by the smoke, where it gets deposited into whatever material the home consists of.
For these reasons, you should call our fire damage restoration repair team, immediately. When we arrive we get two problems solved in one fell swoop. Water and ash are vacuumed out simultaneously. Afterwards, we begin smoke and odor removal.
Using advanced equipment like a thermal fogger allows us to neutralize smells in the deepest recesses of your home such as in vent systems. You will receive a total and complete fresh start from beginning to end.
Disaster Restoration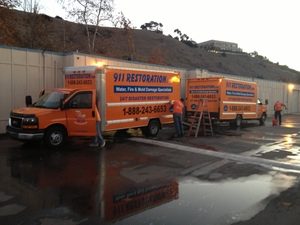 As you can tell from the segments above, we are masters of disaster restoration. And that is required of us, as water damage takes on many forms. In order for us to see a difference in the world, then we need to be prepared to deliver you a fresh start through any event.
Everyone deserves a second chance. So, allow us to be there for you. After a home disaster, your psyche may be shaken up, therefore, we aim to make the process as streamlined for you as possible. It is imperative that everything is handled, or else you risk losing the peace of mind we are trying to restore.
For these reasons, we do things such as file your insurance claims. Restoration should never be financially unavailable to you. Thus, count on us to play hardball with your insurance company in order to maximize every cent paid out to you.