Sewage Backup Philadelphia
If you are having sewage backup problems in your commercial or residential property, then you may run the risk of being exposed to harmful bacteria that can affect the health of you and your family.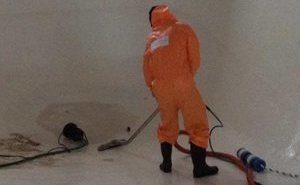 The sewage backup team at 911 Restoration knows the importance of providing speedy water damage restoration services during these circumstances and their technicians are IICRC certified to do just that.
When you work the sewage backup team in Philadelphia, you can have peace of mind that the waste will be removed appropriately and all water damage restoration services will be implemented immediately.
Their office is open 24/7/365 to take your calls, so you can call 911 Restoration locations the moment a sewage backup occurs In Philadelphia. Once the technicians are notified about your sewage emergency, they will arrive at your property within 45 minutes of receiving your call.
The sewage cleanup team will wear hazmat suits to jobs involving sewage that allow them to navigate the disaster area and provide a free visual inspection for property owners. This makes it safe for us to vacuum out sewage and begin the water damage restoration process.
Call us at (215) 268-7407 and please allow us to offer you a free visual inspection.
The sewage cleanup crew considers incidents of black water to be considered a water emergency. So, call the sewage backup unit the moment the event occurs, and we will spring into action on a moment's notice.
Sewage Cleanup, Decontamination, and Odor Removal
When raw sewage invades your home or business, and black water floods your property, it is considered a category three water damage. As soon as this happens, you need to call the sewage backup unit.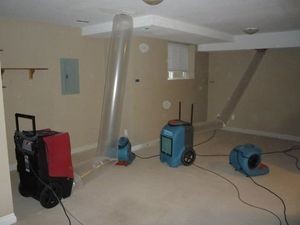 The water damage restoration technicians consider themselves to be professional difference makers. They aim to bring you peace of mind by decontaminating your property as soon after the incident takes place as possible.
Once all the liquid and solid waste are removed, the water damage restoration Philadelphia team can begin microbial remediation that is meant to act as odor control. By getting rid of all the contaminated materials, we can get your property smelling fresh again.
We understand it can be difficult to part with possessions and personal items, but most of the time all soaked material has to be discarded for health purposes. The water damage restoration crew will take care of all this, so you don't have to worry about getting rid of contaminated materials.
Call us at (215) 268-7407 and learn how we can help.
On top of extreme professionalism, another benefit with working with 911 Restoration of Philadelphia is that we are home to a team of insurance experts that can work with your adjuster to get your claim successfully approved. The help we provide for your insurance claim will help get you the coverage that you deserve to make all the repairs on your property. So, call 911 water damage experts when you need emergency, sewage backup services.
Know What To Do After A Sewer Backup
When sewage floods your property the first thing you should do is turn off the main water line going into the home or building. This will equalize the water pressure in the house, thus allowing the sewage to level out and curb the amount that breaches into your home.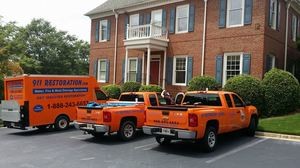 Seal the area off by using towels or close the door, but no matter what you do, make sure to keep the waste from flowing out of the contaminated area. This containment barrier will be a significant aid to keeping you and your family from getting sick.
When you are blocking off the area, remember not to touch the sewage. This black water is raw sewage and carries a high microbial load. This is the type of stuff that can make you very sick if you come into direct contact with it.
When in doubt, pull you and everyone else in the property out of the area and wait for the water damage restoration professionals to arrive. They will come within the 45-minute window to get things back under control.
Call us at (215) 268-7407 and see how we can help you.
Making your home beautiful, and bringing stability into your life is the top priority. If your home or office location is suffering from a black water incident, then don't wait for it to get worse. Call 911 Restoration of Philadelphia today!
Serving the communities of Abington, Ambler, Ardmore, Aston, Montgomeryville, Upper Darby and surrounding areas.