Water Damage and Mold Growth Abington
We want homeowners to know that they can turn to us when you find a fungus infestation in your home, because our mold removal Abington team at 911 Restoration of Philadelphia are available around the clock to handle everything.
Our IICRC certified water damage Abington staff are trained to implement all types of water and mold damage restoration services, including:
Toilet overflow sanitization

Pipe bursts remediation

Washer hose bursts correction

Mold infestation clean up

Water heater leak repair

Fire sprinkler malfunction restoration

Flooded basement water removal
Our phone lines are constantly open, making our mold removal Abington technicians available 24/7/365 to schedule you an appointment with us.
Once our water damage Abington agents arrive on the scene we will provide you with a free home inspection, that includes us checking the entire property for both mold and water damage.
Even though mold is not necessarily considered an emergency situation, we always act quickly when it comes to situations involving water, so you can count on us to be there within 45 minutes.
Call our mold removal Abington specialists the moment you notice any water stains or moldy patches inside your household, and we will get go the extra mile for you today.
When You Need Mold Successfully Removed, You Should Call Our Pros
Most homeowners are unaware of the safety issues that come along with mold growth in their property, but our water damage Abington crew knows the health issues that mold spore inhalation can cause.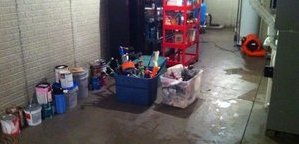 By breathing in these particles you may experience breathing difficulties, that can include wheezing, headaches, coughing, sneezing, itchy eyes and other allergy-like symptoms.
Our mold removal Abington unit wants you to be know that in certain situations you can feel the effects of mold before actually seeing it growing in your household.
We understand that fungus tends to grow in parts of the home that are out of normal sight, such as crawlspaces, attics, air vents and inside walls, so call our water damage Abington workers today.
You Can Rely On Us To Keep You Safe When Water Invades Your Home
If you discover a full blown mold infestation in your home you can stay calm knowing that our mold removal Abington members will not stop until every trace of the substance has been cleared from the premises.

We are licensed, bonded and insured to recover your home from any degree of mold damage, and our water damage Abington techs will always find the source of the issue to prevent a reoccurrence.
It is understandable that you may not be aware of how to file your insurance claim for issues concerning water damage, so you can rely on us to file your claim for you.
Even if your insurance will not cover the mold damage, you can be confident that our mold removal Abington experts will provide you with the most affordable priced fungus and leak remediation services in the area.
Call our water damage Abington professionals at 911 Restoration of Philadelphia when you need thorough mold clean up services, and we will make sure you will get the service you and your home deserves.