Commercial Water Damage Restoration in Philadelphia
Owning a commercial building in The City of Brotherly Love can be a fulfilling endeavor. However, there are certain types of risks that can occur to property owners. Water damage caused by pipe bursts or basement flooding can happen day or night, leasing to horrendous amounts of water flooding the interior of your building. When water damage strikes, timing is everything, including money. If you sweep the problem under the rug, you won't just be dealing with soaked carpeting. You'll also be faced with costly repairs, health risks, and the possible condemning of your property.
Thankfully, there is help and hope. If your building is in need of water damage restoration, contact 911 Restoration of Philadelphia right away. We are available around the clock, day or night. Our team offers 24/7/365 services and will be at your door within just 45 minutes of your initial phone call.
Commercial Property Damage Restoration with a Caring Touch
Whatever the cause is, water damage from flooding inside of your commercial property can be a serious issue. When water damage occurs inside of your apartment complex or office building, it can soil every aspect of your property and lead to long term damages. Within mere minutes, water will seep into your carpet and flooring, causing wood to bloat and walls to rot. Even if you think you have removed every last drop of liquid from your establishment, water can hide in walls, becoming stagnant and resulting in a mold infestation. Mold can start thriving in as little as 48 hours, leading to the health issues and eating away at the structural integrity of your property.
911 Restoration of Philadelphia is ready and willing to start the water damage restoration process immediately. Our team of certified, insured, and licensed pros are armed with the know-how and equipment to swiftly extract, dry, and totally dehumidify your entire building in a flash. No matter how big or small the job is, we'll come up with a plan of attack to get your building, and your life, back to normal.
We understand that as a commercial property owner, you've invested a lot of money and time into your business and building. Witnessing all of your hard work destroyed by water damage can be devastating and trudge up negative feelings. That's why 911 Restoration is not only a swift company, we are a sympathetic one as well. Our "fresh start" approach enables us to put every client we work for at the center of our focus. We'll help you see the silver lining of the situation and realize that there is a new chapter waiting for you around the bend.
Mold Removal Services in Philadelphia
One of the worst consequences of water damage is the growth of mold within your commercial property. Water that becomes motionless will create the ideal haven for mold and mildew to thrive.
While helpful in its natural habitat, mold is an unwanted intruder inside of your property. Not only will it start eating away at every surface it grows upon and harm the structural integrity of your building, but mold will also cause health issues for your customers, employees, or residents. Prolonged mold exposure can lead to upper respiratory infections, coughing, wheezing, headaches, and also heighten asthma and allergy symptoms. It is imperative for your commercial property to undergo a professional mold test in the event that it suffered from water damage.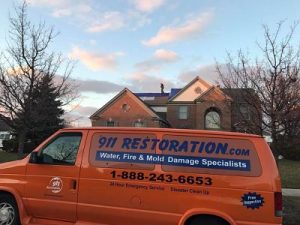 If your property is in need of mold removal, 911 Restoration of Philadelphia is the team to call. We will quickly get to work on your mold infestation and offer a free visual inspection to property owners to determine if mold is present in your commercial building.
If mold is growing within your walls, it is best to call in the pros. If you try and tackle the issue yourself, you could mistakenly miss removing all of the mold. Even the tiniest mold spore can start another infestation, leaving you back at square one.
911 Restoration has the tools and expertise to effectively wipe out all of the mold from your building. Our IICRC certified team will guarantee that your commercial property is once again mold-free and safe to live in.
Other benefits of working with us include:

Third-party lab testing for mold

24/7/365 availability

Total water extraction, drying and dehumidifying

A free insurance consultation

And so much more
If you need water damage restoration services, do not hesitate to call our team now!